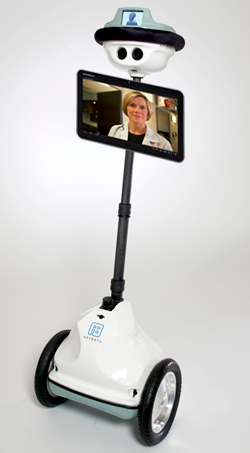 So it looks like the medical rationale is beginning to heat up interest in the remote presence space (or "virtual presence" as Anybots and Sheldon call it). In time for the American Telepresence Association 2013 conference, Anybots and Polycom announces a partnership to offer the Polycom medical video solution.
The intriguing question is, can a partnership between Anybots and Polycom compete with the likes of InTouch and iRobot? InTouch has spent countless years developing a remote presence solution that brings the doctor directly to the hospital bed of a patient, whereas Anybots is providing a solution designed for nurses and PAs to offer after outpatient services to reduce readmission rates.
The question is — will this be a valuable market? Only time will tell.
The press release reads below the fold:

Polycom, Inc. (Nasdaq: PLCM), the global leader in open, standards-based unified communications and collaboration (UC&C), today announced alliances with robotics innovator Anybots Inc.

Video-Enabled Robotics: The first in a series of Polycom video-enabled robots from Anybots, the self-balancing two-wheeled "QB" robot is equipped with a tablet running the award-winning Polycom® RealPresence® Mobile software for a secure HD video session. The maneuverability of the QB can be controlled remotely by administrative personnel, specialists such as language interpreters, or medical care practitioners who can use the robot to evaluate the safety and suitability of the patient's environment. For patients at home, the robot provides a virtual technology option that can help them return to work, school and social activities sooner…

More here.