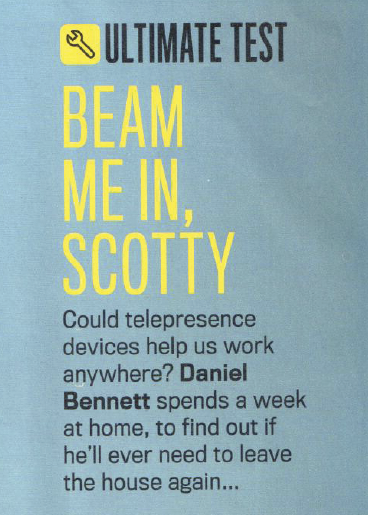 We here at Pilot Presence have an affection for people using telepresence devices and, back in March, the BBC contacted us to see if they could borrow a Beam for testing for an article from their monthly science magazine, Focus.
The ensuring article, found on news stands and on their iPad app, evaluates the Beam Pro, the double, the Kubi and the Romo.
We are happy to share a scanned-in version of the article for your viewing (if you do not have access to the iPad app) – simply make a request via the Contact Us page.
In the reporter's opinion,  the Beam Pro was the best substitute of the above solutions. But while the Beam Pro was "simple to use, reliable and quick" and is "nearly six times the price", the reporter saw that the double likely "represents what RPDs will look like in the future, with its clever use of gyroscopes to stay upright."
The weakness of the double was its reliance on the iPad – "the tablet's speaker is a little on the quiet side and the picture from the front-facing camera is a little grainy, particularly in low light".
Overall, the reporter felt that the solutions today were not going to "permanently replace your presence at work" he was impressed that "telepresence technology has come a long way and can only get better".
More to come from Pilot Presence and our assessment of the telepresence technologies.