But this week, the news is beginning to seep out.
First off, Telepresence Options does a comparison of the products on the market today in their latest mag (seen on Scribd). See here: http://www.scribd.com/doc/54471238/Telepresence-Options-Magazine pages 26 thru 28.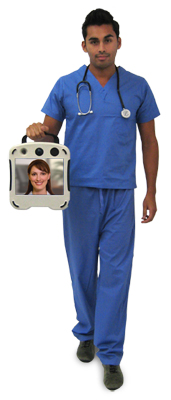 Our friends at InTouch Health have announced their RP-Xpress product at the American Telemedicine Association's 16th Annual International Meeting and Exposition in Tampa, FL. As described in this post, the RP-Xpress continues the focus of providing the continuum of care to health providers.
As they describe on their website:
The RP-Xpress™, is designed for portability and flexibility enabling specialist telemedicine consults to take place anywhere across the healthcare continuum.

This lightweight, durable device can be used in a variety of configurations including mounted to a fixed location, placed on a table, or carried to the patient bedside as a handheld device.
Kind of reminds me of the Cisco Cuis – what do you think?
You can read the press release below:
---
INTOUCH HEALTH INTRODUCES RP-XPRESS™
Portable Remote Presence Telemedicine Consults Now Available Beyond the Hospital
Santa Barbara, CA, May 2, 2011 – InTouch Health® unveiled today the RP-Xpress™ at the American Telemedicine Association's 16th Annual International Meeting and Exposition in Tampa, FL. The RP-Xpress is a portable telemedicine device designed for use in clinical environments using standard 802.11 Wi-Fi, enabling physicians to deliver real-time patient consults into hospitals and clinics. InTouch Health and select health system partners are further developing "out of hospital" telemedicine applications with RP-Xpress utilizing cellular broadband connectivity.
RP-Xpress is a lightweight, rugged, portable device that brings the physician to the point of care, enabling remote consultation and active patient monitoring. As with all InTouch Health Remote Presence telemedicine devices, the RP-Xpress is FDA-cleared Class II for the highest level of clinical acuity. The portability of the RP-Xpress enables the delivery of clinical services across the continuum of care, improving the quality, access and timeliness of care.
"I envision the RP-Xpress being used in a variety of clinical environments, where the portability of the device will lend to earlier subspecialist consultation with an extra set of eyes and ears on the patient. In the case of transport, the RP-Xpress will allow me to assess a patient and recommend treatment strategies hours earlier than I would otherwise. For a critically ill pediatric patient, the management during those first few hours clearly influence outcome," stated Dr. Jason Knight, Medical Director of Emergency Transport Services at Children's Hospital of Orange County, California.
InTouch Health provides complete telemedicine solutions that allow physicians to remotely perform real-time consults with hospital patients. The Company provides a secure cloud-based telemedicine platform, FDA-cleared Remote Presence devices, 24/7 network support and comprehensive planning and implementation services.
InTouch Health will showcase its complete suite of telemedicine products and services at the American Telemedicine Association annual meeting in Tampa, FL on May 1 -3, 2011. To see a demonstration at this conference, please visit InTouch Health at Booth #1217.
About InTouch Health
InTouch Health provides comprehensive telemedicine solutions and expertise that enable physicians to perform remote active patient monitoring and consultation. Through a single portal, physicians can access a host of purpose-built, FDA-cleared telemedicine devices to provide care anywhere across the continuum: homes, clinics, ambulances, procedure rooms, EDs, ICUs, and patient wards. The InTouch Health Remote Presence telemedicine network is powered through its SureConnect® cloud-based infrastructure providing unparalleled connection quality and reliability, interoperability, workflow imaging and documentation, and services and support. Wherever access to medical expertise is limited, InTouch Health's Remote Presence telemedicine solutions can effectively extend the physician's reach to manage patient care, thereby removing critical time and distance barriers.
The Company has more than 400 hospital locations on six continents enrolled in its Remote Presence network for the delivery of telemedicine services such as stroke, critical care, cardiology, trauma, pediatrics, neonatology, psychiatry, language translation, and clinical education and surgical/procedure mentoring.