So, the mystery is revealed and now we know – the funky Apple-like system is actually a "beige-box" form of a "personal robot" developed by our friends at RoboDynamics.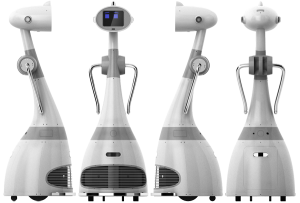 Luna has been a dream of Fred's for some time – back when I met him a year ago, he was describing a sub-$1000 range personal robot that could achieve ubiquity in the home. And, as far as I can tell, Luna has evolved from the strangely thin concept drawing Fred had on the RoboDynamics site a year ago to the new device designed by Schultzeworks.
The specs are none too exciting from a performance standard (see sidebar), but the system was not meant to break any technology records. Instead, Luna seems to be a fulfillment of a dream of Fred's to get a platform in the hands of others that could be used for development purposes.
What is Luna Aiming For?
From my discussions with Fred, he sees three major points driving his vision for a personal robot:
Make robotics affordable
With Luna at the $3000 price point, he is offering a complete platform to build upon – with expansion ports ready for other devices, sensors and end-effectors (read: arms) to be added. Like the ShadowHand for the PR2, Fred sees other companies coming in and developing components for Luna. By focusing on the manufacturing and the use of standard components that have been road-tested (via the TiLR), the price for Luna should come down rapidly – especially with volume.
Play to others strengths
While Fred is no means the only person to say this (see Colin Angle's statement last night at google I/O), Fred has always been sensitive to the limits of what one company can do. He has no sensitivity to one operating system or another – Luna was designed to support and/all OSes whether ROS and Urbi or whatever.
The concept of a LunaOS (LunaOS does not yet exist!) is the amalgamation of the functionalities within these systems and bringing it together as a coherent whole. Similarly, RoboDynamics is not in the space of building cheap 3D sensors or LIDARs. Why not rely on the other companies to improve and grow and allow Luna to benefit from the improvements over time? In my conversation with Colin at InnoRobo, he discussed with me the relative costs of all of the components within the AVA and how he wished there were ways of bringing the cost down on parts like the high-resolution LIDAR. By playing to other's strengths, Luna and the entire robotic ecosystem can benefit.
Reward inventiveness
While Apple is sometimes referred to as the "inventor" of the App Store, Fred has always been trying to figure out a way to reward developers and robotists for their hardwork. The idea for an App Store for robotic applications might seem obvious in our world today, but when Fred was working on creating MILO and TiLR, the germs of this effort was what he desired. It was held up until he could have a sort of "iPhone" or standard platform to develop on that would potentially allow for products to be developed.
But, does it blend? I mean, it is an RPS?
When Fred first told me about this product, I was skeptical. I mean, it is a five foot tall general purpose platform with funky arms. How could this truly provide "remote presence"?
Taking a look at what I would deem quality remote presence, I would expect:
A large, hi-res screen
Quality speakers
A mic array for sound localization and noise cancellation
Excellent field of view both forward and downward
Smooth and rapid movement of the system through a physical environment
Easy to use interface from the pilot's point-of-view
Uninterrupted connectivity between pilot and participants
As you can see, the list is long – and is even longer (see my upcoming discussion on what makes a great RPS system) and Luna is not even close to the needs.
The head is too small and may not provide the quality of fidelity a participant might need
The head camera only tilts and digital zooms, the panning is handled by the movement of the body
There is no out-of-the-box software for controlling the Luna for telepresence, save the Rocketship software
I have no information on the speaker quality and the mic quality of the Luna
There is no downward facing camera which is imperative since the head camera is blocked from seeing Luna's feet by the head casing
Sounds like I am down – right? But wait – Luna has these LXPs (Luna Expansion Ports) which provide USB communication with variable power voltages. Now, if I could find a better camera and place it at Luna's chin and then change out Luna's head cam for a better one maybe I could improve my pilot's perception. With some testing, I could see if the audio/video was quality. With some open-source components from ROS (e.g., wifi connectivity, distributed control), I could improve system performance.
Could Luna be an RPS? Yes – she could be. But that would require someone to build on top of Luna's platform and enable these additional capabilities. So while Luna is not an out-of-the-box RPS system, she is one of the first that could be given some coding and some TLC.
Also good reads: