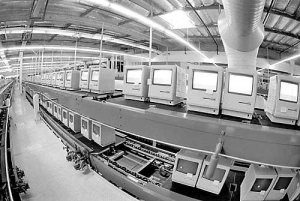 For about a month, everyone has been speaking about the loss of Steve Jobs and how it is a terrible blow to the tech ecosystem.  How, like HP, Apple might succumb to the same tired-old refrain to become a software and services company and jettison the hardware business altogether.
But, much like the industries before it – the manufacturers, the producers of the physical product, the captains of the industry, all drive the greatest innovations in the industries.  I can think of a few:
Ray Kroc and McDonalds
Henry Ford and Ford Motor Company
William Boeing and Boeing
Bill Hewlett and David Packard and HP
The ability to shape the "feel" and the production of a product that creates an experience for others is key in the adoption of a product.  Jobs has a fanatical attitude of the proper attention to detail, quite like how Bill and Dave used to have for a particular engineering culture (read The HP Way).
The ability to shape the culture, the product and the build of a product that is going to elicit an emotional response our of its users – that often comes from genius or a culture of genius – which allows others to rise to that level of perfection.
Remote presence system companies might be able to get great outsourced manufacturing deals in other countries and focus on contract manufacturing to bring a product to market – but it will be the passion for the users – both the pilot and the participants – that will make the best product stand out.  A company that OWNS the manufacturing; creates the plant and the experiences in hardware that will win out – software will not be the end-all, be-all.
I appreciate the work that GOSTAI, Anybots, vGo, iRobot and others are embarking on – and right now, I do not see anyone with the unifying vision of how the RPSes will exist in the world.  I believe it takes a combination of a leader with a single-minded passion and a team around him/her to bring this emotional connection to pass.
Yes – I think the vGo and the Jazz is cute, and the Anybot is a funky device that is quite impressive in its ability to handle the inverted pendulum.  But none of these products are in the direction I would say will change the way people interact with them.  I am waiting to see what the next Steve Jobs will appear in the industry.